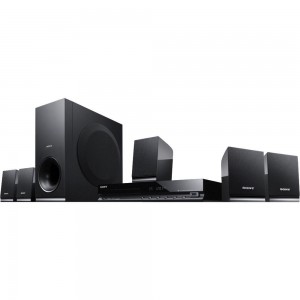 Newegg网店销售,原价:129.99元,翻新价:59.99元,邮费9.99元,点击进入订购页面。
Consisting of a 5.1-Ch speaker system and DVD player capable of 1080p upscaling, the SONY DAVTZ140 is a must-have for your home theater system that brings you theater quality entertainment right into your living room, with ultra-friendly price tag that wouldn't make you wince. Multi-format disc support, and USB port for direct media playback offer you unmatched versatility and convenience. The 1080p upscaling breathes new life into your DVD collection as if you watch your favorite movies for the first time. Connect all your BRAVIA Sync enabled devices and you'll only need one remote to control them all. And connecting an older television is no problem thanks to included composite video output.
1080p Upscaling When played in this system, your DVDs will upscale to near 1080p quality.
Multi-format disc playback View a wide variety of movies, videos, and photo formats including DVD, MPEG4, and JPEG. Listen to a wide variety of music formats, including CD and unsecured MP3, WMA and AAC.
USB Port Allows for easy, convenient enjoyment of movies, videos, photos and music listening from a USB device.
BRAVIA Sync Control all your Sony BRAVIA Sync enabled devices with one remote control when connected to this system.
Enhanced Connectivity In addition to HDMI, Composite video output is included for connection to older television set. Audio Input (Analog) allows you to easily connect MP3 players and other audio sources in your system.
↓↓请使用微信扫描二维码分享本页面↓↓